Sohail Inayatullah: Biographical Information
ACADEMIC

Dr. Sohail Inayatullah, a political scientist, is Professor at Tamkang University,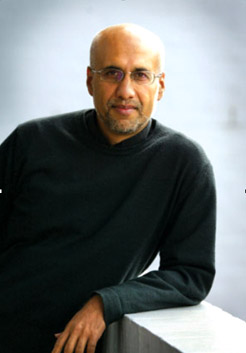 Taipei (Graduate Institute of Futures Studies), Visiting Academic/Research Associate at Queensland University of Technology (Centre for Social Change Research); Adjunct Professor at the University of the Sunshine Coast (Faculty of Social Sciences and the Arts); and, Associate, Transcend Peace University. Inayatullah is a Fellow of the World Futures Studies Federation and the World Academy of Art and Science. He is on the International Advisory Council of the World Future Society, and on the Professional Board of the Futures Foundation, Sydney.

In 1999, he held the UNESCO Chair at the Centre for European Studies, University of Trier, Trier, Germany and the Tamkang Chair in Futures Studies at Tamkang University, Taipei, Taiwan. From 1981 to 1991, he was senior policy analyst and planner with the Hawaii Judiciary, where he coordinated the Court's Foresight Program.

PUBLICATIONS

Inayatullah is co-editor of the Journal of Futures Studies and associate editor of New Renaissance. In addition, he is on the editorial boards of Futures, Development, Peace and Democracy in South Asia, and Foresight. He is theme editor of 'Globalization and World Systems' for the UNESCO Encyclopedia of Life Support Systems.

He has written more than 300 journal articles, book chapters, encyclopedia entries and magazine pieces. These have appeared in over 40 different journals including: American Behavioral Scientist, Australia Science, Contemporary South Asia, Convergence, Debats Technologics, Development, Edges, Euro-Asia Business Review, Future Generations Journal, Futures Research Quarterly, Futures, Futurics, Hawaii Bar Journal, In Context, International Foundation of Development Alternatives Dossier, International Journal of Science and Technology, International Studies in Sociology and Social Anthropology, Journal of Applied Social Behavior, Journal of Asian and African Studies, Journal of Futures Studies, Journal of Islamic Science, Journal of Technological Forecasting and Social Change, Law and Technology, On the Horizon, Periodica Islamica, Prospectiva, Seminar, Social Epistemologies, Suitcase, The American Journal of Islamic Social Sciences, Third Text, Tourism Management, Whole Earth Review, and World Futures.

His articles have been translated into a variety of languages, including Catalan, Spanish, Urdu, Hindi, Bengali, Italian, Japanese, Russian, and Mandarin.
Inayatullah has also written and co-edited fifteen books/cdroms. These include:

• Chaos and Coherence in our Uncommon Futures;
• Futures Studies — A Multimedia Reader (CDROM);
• Islam, Postmodernism and Other Futures: A Zia Sardar Reader;
• Judicial Foresight in the Hawaii Judiciary;
• Macrohistory and Macrohistorians: Perspectives on Individual, Social and Civilizational Change;
• Questioning the Future; Futures Studies, Action Learning and Organizational Transformation;
• Situating Sarkar: Tantra, Macrohistory and Alternative Futures;
• The Futures of Democracy in Pakistan and the Developing World;
• The University in Transformation: Global Perspectives on the Futures of the University;
• The Views of Futurists: The Knowledge Base of Futures Studies — Volume 4 (CDROM);
• Transcending Boundaries: P. R. Sarkar's Theories of Individual and Social Transformation;
• Transforming Communication: Technology, Sustainability, and Future Generations;
• Understanding Sarkar The Indian Episteme, Macrohistory and Transformative Knowledge; and,
• Youth Futures: Comparative Research and Transformative Visions,
• The Causal Layered Analysis Reader: Theory and Case Studies of an Integrative and Transformative Methodology
• Questioning the Future: Methods and Tools for Organizational and Societal Transformation (second edition)

Forthcoming in 2006 is Educational Futures.
He has edited numerous special issues of the journal Futures in the areas of: Communication Futures; Alternative Futures of the University; What Futurists Think; The Futures of South Asia; and Layered Methodologies. Forthcoming in 2005/6 is a special issue on Anticipatory Action Learning. He has also co-edited a special issue of Foresight on Ageing Futures.

In Australia, he has contributed to the Australian Financial Review, having published articles on cyber–lobbying, revolutions in governance, digital home futures, dissent in universities, ageing, capitalism and the Internet. Most recently he has written for The Age and the Sydney Morning Herald. He has been interviewed for numerous television and radio programs, including the BBC radio and Internet special on 'Visionaries and Education in the 21st century'.
RESEARCH

In October 2005, Inayatullah (and Daffara) prepared a report for Pine Rivers Shire Council on Trends and Scenarios impacting the Shire. In April 2005, Inayatullah prepared a report for Queensland Education on Alternative Futures of Education. In 2003, Inayatullah prepared a policy futures report for the Queensland Department of Families on the Futures of Ageing. In 2002, he prepared major social and environmental scans for Brisbane City Council ('Scanning for City Futures' and 'Alternative Scenarios for E–governance and Regionalization for Brisbane City Futures'), and for the Victoria Department of Justice, Office of Correctional Services Commissioner ('Scanning for Correctional Futures'). In 2001, he prepared a similar scan for the Judiciary, Victoria Department of Justice ('Scanning for Justice'). In addition, he prepared a report for the Foundation For the Future, titled 'Methodological Aspects of Humanity's Long–Term Future', and a report for the Western Agri–Food Institute (Western Canada) on the 'Futures of Food/Agriculture/Farming'. In 1999, he completed a UNESCO research project, in association with the World Futures Studies Federation, on culturally appropriate information and communication technologies.

PRESENTATIONS AND CONSULTING

Inayatullah has conducted research, consulting, and workshops, or presented keynote addresses for a variety of organizations. These include:

Academic Cooperation Assocation, Brussels Conference Vienna, Austria
Academica Sinica, Taipei, Taiwan
AEC Group Darling Downs and South-West Queensland Summit, Dalby,
Queensland
American Planning Association, Hawaii
Apec Technology Foresight Centre, Bangkok
Asia-Europe Foundation Colloquy on Universities of Tomorrow, Luxembourgh
AsiaPacific Cities Summit 2003
Asia-Pacific Conference on Innovation, Thailand
Association of Risk and Insurance Managers of Australasian, Melbourne
Australasian Association for Quality in Health Care Conference Riding the Wave of Quality, Gold Coast
Australia Association for Environmental Education Conference, Brisbane
Australia Communications Authority, Melbourne
Australia Housing and Urban Research Institute, Brisbane
Australia National Divisions of General Practice, Brisbane
Australian Government Ministry of Agriculture, Fisheries and Forestry, Division of Product Integrity and Plant Health, Canberra
Australian Government, Department of Defense, Canberra
Australian Government, Department of Finance and Administration, Canberra
Australian Government, Pharmaceuticals Industry Action Agenda Team, Department of Industry, Science and Resources, Melbourne
Australian Government, Public Service Futures Forum, Canberra
Australian Government, Senior Public Service Executives, Canberra
Australia Marketing Institute, Gold Coast
Australian Pharmaceutical Science Association, Melbourne
Australian International Social Artistry Intensive, Frazer Island
Brisbane City Council, Business Development Unit
Brisbane City Council, Community Information
Brisbane City Council, Finance Network
Brisbane City Council, Labor Caucus
Brisbane City Council, Social Action and Equity Team
Brisbane City Council, Strategic Planning
Brisbane City Council, Strategic Planning and Policy
Brisbane City Council, Community Development Services
Brisbane Ideas Festival, 2001 and 2003
Brisbane North Division of General Practice, Brisbane
Bristol Myers Squibb, Melbourne
Caboolture Shire Council, Caboolture
Catholic Education, Brisbane
Commonwealth State Office of Health and Aged Care, Brisbane
Community Consultation Network, Gold Coast
Council of Social Sciences, Pakistan
Craft Queensland, Brisbane
CRS Australia, Sydney
Education and Leadership Conference, Croatia
Education Queensland, Brisbane
Environmental Institute of Australia Conference, Brisbane
Ernst and Young and McCullough Robertson Lawyers, Employment and Industrial
Relations Conference
European Commission s Forward Looking Unit, Brussels
European Peace University, Austria
Foundation for the Future, Seattle
Fuji Xerox Australia, Sydney
Global Learning Centre, Brisbane
Gold Coast Independent Schools Conference
Hawaii Credit Union League, Honolulu
Hawaii Judiciary, Honolulu
Hawaiian Electric Company, Kauii
Insurance Manufacturers Alliance, Sydney
International Catholic Migration Commission, Geneva, Switzerland
International Cities and Town Conference, Caloundra
Islamic Development Bank s Institute for Research and Training, Kuala Lumpur
Land Com, Sydney, NSW
Logan City Council, Tides of Change Conference
Logan City Division of General Practice, Logan
Malaysian Government, Ministry of Higher Education, Shah Alam
Malaysian Government Institute for Policy Research, Penang
Manpower Australia, Sydney
Marketshare Queensland, Brisbane
Maroochydore Shire Council, Early Childhood Conference, Sippy Downs
Maroochydore Shire Council, Nambour
Maroochydore Vision 2020, Sippy Downs
Mid-North Coast Regional Council for Social Development, Coffs Harbour
Mid-Pacific Institute, Honolulu
Mt. Eliza School of Business, Melbourne
National Association of Graduate Careers Advisory Services, Canberra
New Farm Community Centre, Brisbane
New Visions Conference, Croatia
New Zealand Futures Trust, Wellington
New Zealand Ministry of Research, Science and Technology, Wellington
NRMA, Sydney
Organization of Islamic Conference s Committee on Science and Technology, Pakistan
Pine Rivers Shire Council
Queensland Advocacy Incorporated, Brisbane
Queensland Department of Education and Training
Queensland Diabetes, Brisbane
Queensland Divisions of General Practice, Brisbane
Queensland Divisions of General Practice, Mooloolaba CEO meeting
Queensland Government, Department of Communities, Disabilities Conference
Queensland Government, Department of Education
Queensland Government, Department of Primary Industries
Queensland Government, Innovation Conference
Queensland Government, Department of Tourism, Racing and Fair Trade, Brisbane
Queensland Government, Office of the Premiere
Queensland Government, Office of State Development, Brisbane
Queensland Government, Department of Families
Queensland Government, Department of Mines and Natural Resources
Queensland Rail
Queensland Secondary Principals Association Conference, Brisbane
Queensland Transport and Main Road Conference Where are our Travel Choices Taking Us? Brisbane
Redcliffe Bribie Caboolture Division of General Practice Conference Future Health, Redcliffe
Rural Victorian Alcohol & Drug Conference
Senior Officers Business Improvement Network, The Big I, 2004
Singapore Subordinate Courts
Society of Hospital Pharmacists of Australia, Brisbane
Southern Cross University, Australia
State of Hawaii, Office of Planning, Honolulu
Straight out of Brisbane Festival, Ideas Festival, 2004
Sunshine Coast Education Leaders Conference, Noosa,
Sunshine Coast Sea Change Conference
Swinburne University Foresight Conference, Adelaide, 2003
Taiwan Government, Institute for National Policy Development, Taipei
Tamkang University, International Conference on Teaching Futures
Telstra Country Wide, Brisbane, 2004
Thai Government, National Innovation Agency
Thai Government, National Science and Technology Development Agency
Thai Capital Market Academy Conference
The Futures Foundation, Exploring the Futures of the Smart State, Brisbane
The Heilbronn Group, Brisbane
University of Sydney, School of Economics and Political Science, 2004
University of Technology Sydney, Institute for Sustainable Futures, 2004
University of Hawaii, Globalization Research Center, Department of Political
Science and Hawaii Research Center for Futures Studies, Honolulu, 2004
University Sains Malaysia, Penang, Malaysia
University of Newcastle, Australia
Victoria Department of Justice, Corrections and Courts, Melbourne
Victorian Community and Social Planners, Melbourne
Victorian Department of Justice, Portfolio Planning, Melbourne
Western Agri-Food Institute, Canada
Woodford Folk Festival, Woodford, Queensland
Zurich Corporation, Sydney


In the following months, Inayatullah will be making presentations and/or conducting courses and workshops for:

Bristol Myers Squibb, Singapore
2006 Diocesan Principals Conference, Rockhamption
World Summit on Innovation & Entrepreneurship, Muscat, Oman
World Conference of Occupational Therapists, Sydney
Australia Local Government Professionals Conference, Melbourne
Australian College for Child and Family Protection Practitioners, Sydney
International Conference on Learning to learn, Sunshine Coast
International Symposium on Vetenarian Epidemology, Cairns

Australia Association for Environmental Education, 2006

CONTACT INFORMATION

INTERNET

E-mail: s.inayatullah@qut.edu.au; sinayatullah@hotmail.com; sohail@bigpond.net.au; sohail@mail.tku.edu.tw,

Web site: http://www.metafuture.org

Associated Web sites: http://www.worldfutures.org; http://www.ru.org; http://www.transcend.org; http://www.proutworld.org; http://www.gurukul.edu; www.imcassociation.org; http://www.ed.tku.edu.tw/develop/JFS; http://www.futurists.net.au/about_us.html; http://www.bbc.co.uk/essentialguide;

ADDRESSES

Faculty of Arts and Social Sciences, University of the Sunshine Coast, Maroochydore DC, 4558, Queensland. Tel: 61-7-5430-1247; Fax: 61-7-5430-2880.

Graduate Institute for Futures Studies, Tamkang University, Tamsui, Ying-Chuan Road, 251, Taiwan. Tel: 88-6-2-2621-5656 (ext. 2121); Fax: 886-2-2622-9756