Edited by Marcus Bussey, Sohail Inayatullah & Ivana Milojević
Sense Publishers, Rotterdam
Non-fiction/Academic | ISBN Paperback: 978-90-8790-511-8 | ISBN Hardcover: 9789087905125 | ISBN E-Book: 9789087905132 | 2008 | 324pp
Available from: www.sensepublishers.com
Alternative Educational Futures brings together theoretical and practical work in a challenge to mainstream thinking on the practice and purpose of education. The book promotes multiple futures by presenting works that range from the child-centred, through those that promote a futures oriented critical pedagogy to open ended explorations of the implications of technology for education and the possibilities of rethinking and deepening human potential.
The editors – Bussey, Inayatullah and Milojević – are all educators and describe this book as another small step towards rethinking the present in the light of possible futures. They see that whatever steps we take as a species towards the future – be it a proto-global civilization, a fractal cosmopolitanism, a gaian-technolopoly, or a return to the past – education both as an institution and as a social process is key to how we get there, remembering that the future is created and changes with every step we take.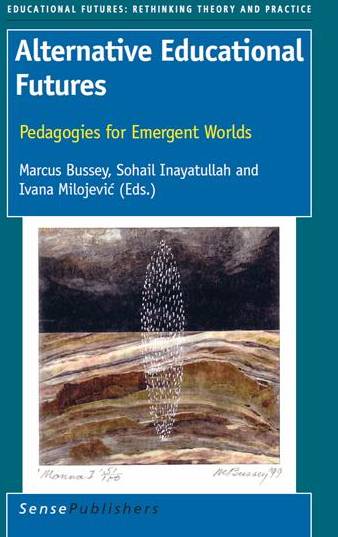 The book contains chapters on futures strategies, tools and techniques for a range of educational contexts, global education and neohumanism, the futures of universities, the changing shape of textual authority and learning in the face of the internet, access and equity, democracy and learning, Buddhist and Vedantic insights and offering on education, Steiner education, creative pedagogies and a number of case studies on the successes and failures of futures studies in a range of educational and institutional contexts.
Along with chapters by the editors, there are contributions from David Hicks, Jim Dator, Erica McWilliams and Shane Dawson, Patricia Kelly, Julie Matthews, Robert Hattam, Kathleen Kesson, Basil Savitsky, Jennifer Gidley, Gary Hampson, Richard Slaughter, Martin Haigh and Billy Matheson.
All authors in this collection are committed to transformation of assumptions about education and its social function. These chapters bare witness to various manifestations of an emerging global mind set that is marked not by coherence and a single story but by multiple and layered possibility. The authors all see, from often quite different positions, that the future health of society lies in diversity and a social activism that is grounded in the local actions of individuals. Education will play a central role in empowering this activism and it is to this multiple future that this book turns its attention.
Reviews and Comments
Comments on Alternative Educational Futures: Pedagogies for Emergent Worlds
---
We desperately need the dynamic revolution in education that this book offers us, reflecting the new ways of thinking and being on this planet that will permit us to live in peace as a global family even through massive climate changes. Read it and put these ideas into practice as quickly as possible in any ways you can!  
Elisabet Sahtouris
Evolutionary biologist and futurist
Author of EarthDance: Living Systems in Evolution
---
We have more than enough books that under-estimate what is called for where educational change is needed, that only rearrange deck chairs on the deck of the Titanic. This edited book goes where change must go and its case for alternative pedagogies is exhilarating. Drawing on 18 wide-ranging new essays the editors both challenge conventional educational analysis and forge beyond it to explore a deeper transformative potential of self and culture. The book promotes visions, rather than roadmaps, and pioneers thereby a fresh agenda for a new type of lifelong schooling that honours spirituality, sustainability, and empowerment. Bold, eclectic, and original, it leaves a reader eager to get on with a major overhaul of education, from birth throughout life, the better to replace the dominant enervating education narrative with one that soars. Distinctive and revealing, the book will reward a close reading by all eager to help education finally achieve what has always been possible, but needed the creative jumpstart this book offers.
Arthur B. Shostak
Emeritus Professor of Sociology
Drexel University
Author of Anticipate the School You Want: Futurizing K-12 Education
---
This collection provides an insightful, panoramic view of this precarious moment in the history of humankind. These uncommonly perceptive essays consider the "range of alternative futures" before us and describe how we might work and educate toward a future that offers more humane, nourishing, and genuinely sustainable ways of living. These are stirring, provocative, exciting writings that explore the most vital questions of our time.
Dr. Ron Miller
Holistic education theorist
Editor of Education Revolution magazine.
---
Alternative Educational Futures
is a daring attempt to break out of the endless cycle of school/university reform. This volume offers a rare combination of imagination and rigor, pointing towards the possibility that what is happening in the world around us today is the end of education and the rebirth of learning.
Dr. Riel Miller
UNESCO
---
Fasten your seatbelts before you enter this collection of provocative, sometimes brilliant, essays, because it will take you at warp speed on a journey to many places you have not conceived of before, places where your past understandings and current beliefs may be shaken up. Basing their work on theory, imaginative thinking, empirical social research, or case studies, the authors map, create, explore, and evaluate alternative futures for education, from grade schools to universities and beyond. Every educator—indeed every citizen—ought to read this book as an inspiration and guide to making teaching and learning more effective, appropriate, equitable, and flexible in a rapidly changing world.
Wendell Bell
Professor Emeritus
Yale University
Author of Foundations of Futures Studies Volumes 1 & 2
---
Alternative Educational Futures
challenges mechanistic models of curriculum and pedagogy predicated on linear thinking, control and predictability. Both individually and collectively, the editors and contributing authors generate multifaceted understandings of futures in and for education that are open, recursive, organic and emergent. This is a text that performs what it represents by questioning its assumptions, permitting contradictions, tolerating ambiguities, and resisting the pernicious and pervasive politics of complexity reduction in education and society. These adventures in thinking should be an invaluable resource – and source of inspiration – for all who care about the quality of education for immanent yet unpredictable futures.
Noel Gough
Professor of Outdoor and Environmental Education
Director, Centre for Excellence in Outdoor and Environmental Education
President, Australian Association for Research in Education